Let's start with something that immediately catches your eye. Perhaps the most striking feature of APL is its support of family business. When spouses build a business hand in hand, when families go on trips together and participate in events, they become stronger and more cohesive, that's what APL believes in. The company tries to give each family an opportunity to work and spend time together as a team moving toward success. The company holds special events for couples, offers the best conditions for family opportunities which is not surprising, because at the forefront of APL is a married couple Sergey and Olga Kulikov.
SERGEY KULIKOV (Founder and President of APL Company)
Sergey Kulikov began his journey at the age of 17 as a simple distributor of a networking company, something he is extremely proud of. This experience helped him to understand the business from different angles; this experience helped him to build a company from scratch with distributors' interests in mind. Today the name of Sergey Kulikov is known in the world of business and training of network marketing professionals. He is a successful analyst and creator of experiential projects and training platforms and actively posts educational content on social networks. He made his first million euros at the age of 21. He is the creator of a system that monitors the effectiveness of Associates which was implemented back in 2014 and is still used today by APL with the help of an online university.
OLGA KULIKOVA (Creative Director of APL Company, Editor-in-Chief of APL PLANET magazine)
Olga Kulikova is the wife of the APL President, who walks hand in hand with her husband during his personal development and establishment of the company. It is impossible to communicate Olga's contribution to the development of APL. The stylish, elegant and effective working tools of APL Associates are her merit. Olga is not only keeping up with the time, she is ahead of it. A prime example of this is the events that are organized at APL.
SPACE EVENTS
In 2021 APL turned 10 years old and the main theme of the anniversary was space. This event included photo-zones and artists which made the guests feel as if they were on board a real space flight. At one point it was as if they were in weightlessness when APL President took off from his seat with six animators without ropes or support.
Every year the company raises the bar for their events! Just imagine, an 8 hour exclusive space show, 178 artists, 350 tons of decorations, 286 people staged, more than 30 kinds of special effects, unexpected directorial decisions, 11 screens of more than 1000 square meters, 5 languages of simultaneous interpretation. In addition, a raffle of 10 iPhones highlighted a large given away. This is the level of events the Company is used to providing. APL is also know to host other touching events where tears of happiness flow like a river.
70 MARRIED COUPLES DECLARED THEIR LOVE FOR EACH OTHER AGAIN
Just imagine, a wedding vow renewal ceremony for its Associates on the shores of the Caribbean Sea. Spouses renewed their declarations of love to each other, read their vows, and exchanged secret messages and gifts. This is one of those events that shows how the Company honors family values and takes care of its distributors.
42 APL DISTRIBUTORS SURVIVED ON A DESERT ISLAND
In the summer of 2021 the company organized a SURVIVOR-style event for its Associates. On a completely deserted island in Panama, 42 participants spent 4 days sharpening their character through some of the toughest mental and physical challenges they've ever faced. Each trial had its own meaning. Before kicking off this event, APL President personally worked with the participants and provided unique training they could use in their business and in life. For example, the Leaders learned to swallow their pride by swallowing nasty live worms, maggots, and other creatures.
On all fours, they crawled through the maze of fear, where there were many snakes, cockroaches, and other crawling and flying creatures. Participants overcame a huge number of obstacle courses, both on land and in water and trained their courage, team spirit, and faith in themselves. They stepped out of their comfort zone and pushed beyond their limits. The event was several times richer than the famous TV show, because for 4 days the participants went through 40 trials. There was almost no personal time. The teams got their food during the trials and cooked it in island conditions.
Now the participants of "Wild Panama" are leaders who know what they want from life and will take it! They do it, achieve it, break records because they see no obstacles in their way! They have passed the test of the four elements, so now when presenting or working with a list of cold contacts is nothing for them. This event was the winner of the BEMA, which is an annual professional award of the event marketing and integrated communications industry.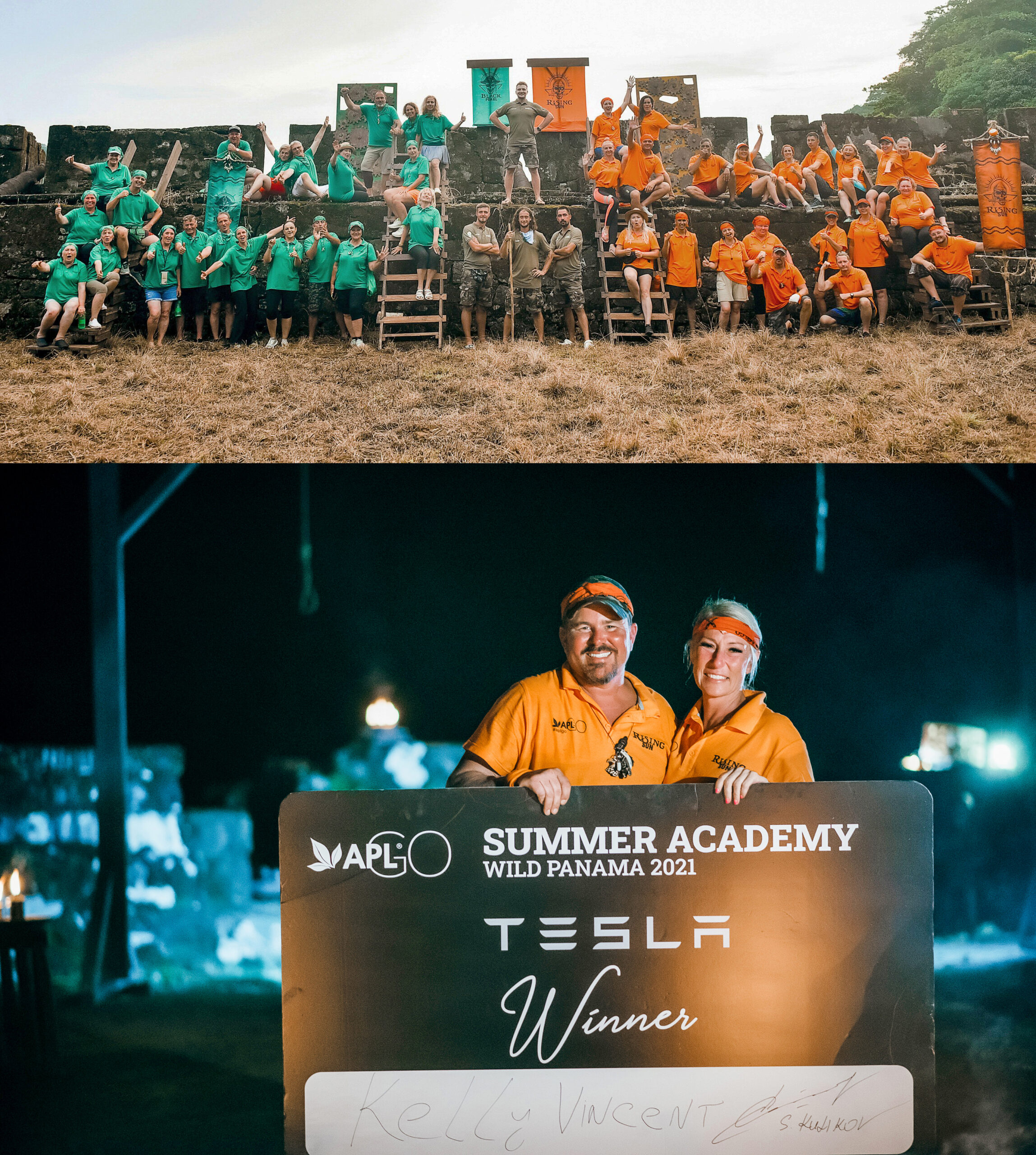 APL is dynamically developing, opening offices in many countries: CIS, Europe, Asia, North and South America:
More than 300 thousand customers and associates work in 75 countries on 5 continents.
More than 2000 people are members of the APL Travelers Club, which so far has traveled to 35 different countries.
4500 square meters are occupied by the Company's own production facilities in Europe.
More than 4,000 Associates have earned up to 1,500 euros or more per month over the last calendar year.
Almost every person in the Company has received a gift through promotions and drawings.
More than 100 million euros worth of product had been donated through promotions and raffles.
Of course, none of this is possible without the management team.
INNOVATIVE TECHNOLOGY
The Company's flagship product is the 16 types of Acumullit SA lozenge drops. The innovation of the technology lies in the fact that the company has learned to "accumulate" the power of plants, fruits, herbs, berries and vegetables in the drops. The technology additionally activates biological beneficial substances of natural components. As a result of the pulse action, the cell membranes of the plants and fruits used in the formulations are thinned, through these thinned membranes microelements, bioflavonoids, organic acids, antioxidants are released, and with a negative charge their action is enhanced. This activated mixture is added to the caramel mass, from which the accumulated APL drops are created. In short, each Acumullit SA is a small, pinpointed "bombshell" to help the body, which, by "exploding" and getting into the body, transfers useful substances, vitamins and minerals to the body.
Lozenge drops are very diverse in their properties, so they are of interest to a large number of people: some help to strengthen the immune system and promote rapid recovery, others have an antiparasitic effect, others help to strengthen the heart muscle, etc. You can research reviews of the product from ordinary people on your own by using the hashtag #acumullit_sa_results on any social network.
Cooperation with the Company allows Associates to quickly get on the right track and achieve financial stability. It has extensive opportunities in building a business, working with structures, more than a dozen rewards, many of which are calculated weekly. APL Compensation plan is one of the 10 most generous marketing plans in the world according to Business for Home. All this makes APL Compensation plan one of the most lucrative offerings on the market with great opportunities.
APL believes its mission is to change people's lives for the better. Its Associates say APL is more than a business. "And whoever decisively commits their life to us stops being who they are now forever. And become the best version of themselves. They become a person who deserves a round of APLause," is how APL describes its partnership with Associates.
Kelly Vincent and Tina Malsom (AMBASSADORS)
«In the summer of 2020 we found out about APLGO. We had been in the MLM industry for 25 years combined and had been in the top 1% of 5 different companies, so we knew what to look for in a successful company to launch here in the USA. We were very impressed by the 8 year track record of solid and stable growth in over 30 countries. What really captured our attention the most was this incredible product that seemed to be the best kept secret in the industry. A plant based supplement that captures the negative ions that nature provides and utilizes the DNA of the plant to form a delicious melt in your mouth lozenge that tastes like candy and works to revitalize cells immediately with substantial amounts of science and research backing it up – now that really knocked our socks off. So we began to study the compensation plan and that was it when we realized that it clearly stood out as one of the most generous rewards plans with the most unique pay ways and a shocking 63% pay out! We realized this kind of plan would disrupt the USA market with excitement and create many success stories.
We met with the founder Mr. Sergey Kulikov who shared his vision and company culture with us and that was the last piece of this perfect puzzle! Most networkers find exactly what they are looking for here at APLGO and that is why we choose to be here. We believe this company will create more wealth for our family, friends, and community than we have ever seen. We have made a strong income in just 19 months and have earned 3 luxury trips, along with a brand new Tesla! We have earned the elite Ambassador rank, the gold star award, a Golden Leaf award for best sales volume, Elite 16 founder status, and 2 Golden Flight pins».
Partnering with APLGO is the best business decision we have ever made. We are very blessed and grateful to Sergey Kulikov for this incredible life-changing opportunity!
Tatiana Bugaenko (PREMIER DIRECTOR)
"My story with networking started when I was 19 years old. I was in college and wore a badge that said, "Do you want to lose weight? – Ask me how." They thought I was weird. But for a girl from a small village, I really wanted to get out of poverty and be useful to people. For years I tried unsuccessfully to build a career in networking, but it didn't work out. Until I was introduced to APL.
My initial purchase of $200 to APL was equivalent to my monthly income – which my son and I had to live on for a month, with more than half of it going to housing. But when I calculated APL's marketing that I had the potential to earn more just on the unilevel bonus from six generations I made the decision to quit my main job and totally immersed myself in APL.
After three months, my paycheck was up more than I made in a few months, and now after a year it's even more. It was an unbelievably generous compensation plan. In one year I invited only 23 people and I have only 500 people in my team and received ample compensation for doing so. Also I am in love with APL because of the great training system that suits everyone from beginners to professionals, the events that blow up all borders and brains, the product is beyond competition and works instantly – the list goes on, but the source of all this is the President of APL Sergey Kulikov. He has ambition, wisdom, and ability to plan for many years ahead. And most importantly he has high spiritual values – family, care for people, associates. With such leadership, you feel protected and confident in the future".
APL is a company where dreams come true, where every person is respected and valued.
Irina Borodenko (PREMIER DIRECTOR)
"I came into the MLM industry from a line business to which I have devoted my whole life. I am a pharmacist, I have a PhD in pharmacy and all the years of my conscious life I have been helping people to restore their health. My job has always required a lot of hard work, new knowledge, and an incredible amount of time. And I absolutely love freedom!
That's what made me look for a new model in business, where all the puzzles would fit together – legality, own production, an innovative product for the health of mankind, the owner of the company with a vision for the next few decades and, of course, the opportunity to make money.
For me, MLM is freedom! It's like art, there is an opportunity to fulfill yourself. This is the door to a life of fun and here everyone will find what they are looking for. Everything that I told above has come together in one project, in my company APL!
I am grateful to our President Sergey Kulikov for the opportunity to be part of his project and help so many people become successful, healthy and wealthy! I got a chance to travel a lot and meet new people, to share my experience and knowledge, to be surrounded by the President, receive recognition and incredible mega dream paychecks. Thanks to the events that the company organizes for us at the highest level, there is a transformation and a breakthrough to success".
When the mindset creates your actions, the actions begin to create your habits that lead to results and a new mindset of a successful APL associate is created!