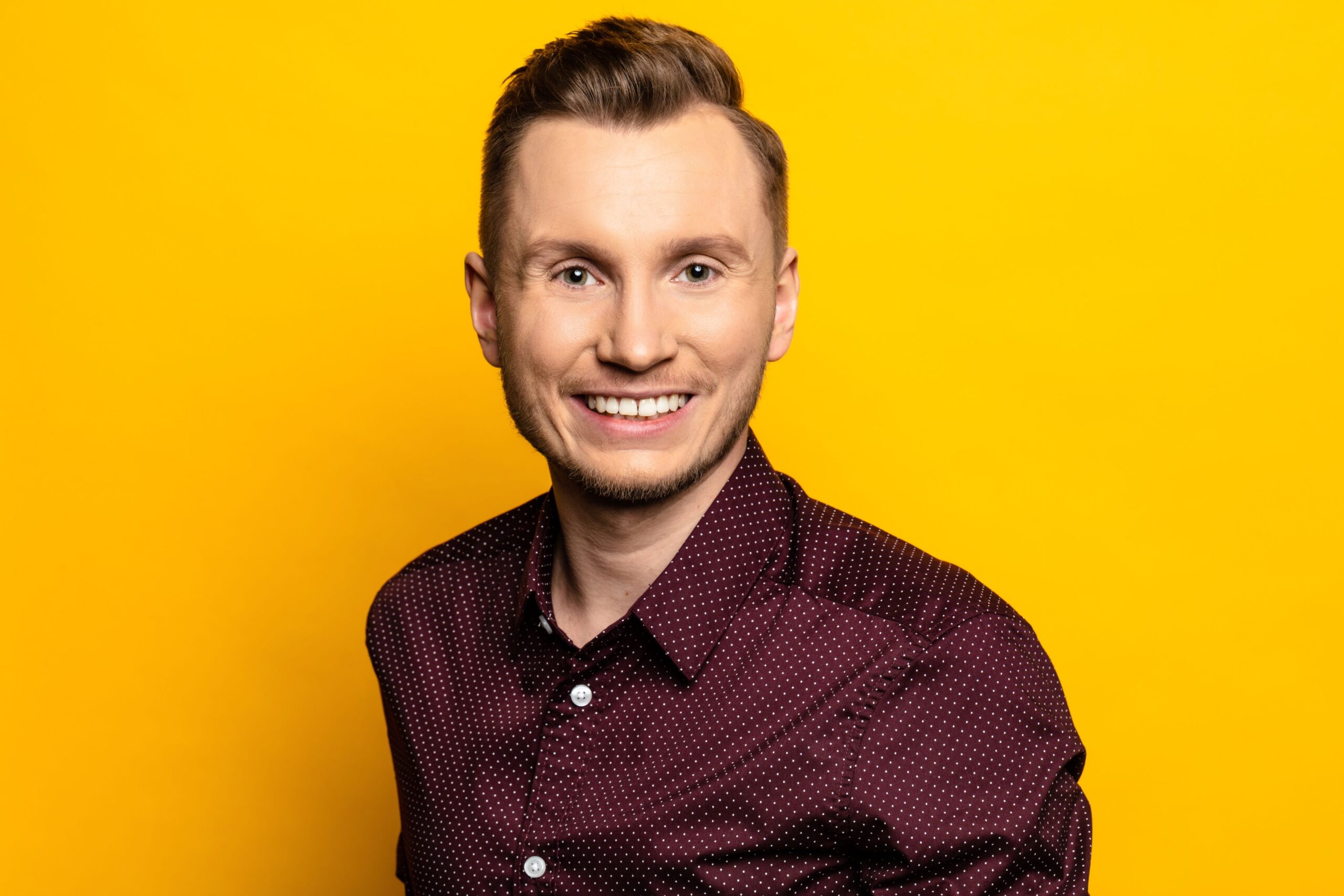 Łukasz Smoliński
The phenomenon of natural selection and the picking off of weak individuals has accompanied us since the dawn of time. If you don't adapt to change, you are out. One of the reasons for many bankruptcies and crises in companies is the lack of or inadequate adaptation to the changing world. You always have to move forward.
Łukasz Smoliński was one of the speakers at the S'OUVRE executive convention. He is a co-owner of this company operating in the MLM system and a person responsible for market development in Great Britain. During his speech, he mentioned an idea he referred to as the NETWORK CHAMELEON. How does this relate to the changing market during a great depression? With a particular view to conveying reliable information and bringing unique values to the readers of the Network Magazine, I interviewed Łukasz Smoliński on this subject. About the idea of a NETWORK CHAMELEON. But not only that!
Bartosz Nyga: Who are you?
Łukasz Smoliński: I believe that I am a traveler, a wanderer through life. Because I love learning. I like learning all kinds of new things that I can use in my private and professional life. I am fascinated by traveling around the world and by how people of different nationalities live, approach life, run their businesses and what their culture looks like. This is very useful. It inspires me a lot to continue working and growing S'OUVRE. As I noticed that business people in other countries use different tactics to develop companies, I started using their methods, which later translated into a wide optimization of our company's operations.
For as long as I can remember, I have been a person who is like… a child, building something out of Lego bricks. I love watching something emerge and grow. I translated the child's curiosity and creativity into action in S'OUVRE. In our company, I am currently the one who supports and helps partners in the UK. In July 2019, I moved to London. The stay in the capital itself gave me a lot of inspiration and ideas that I implement into business, and this translated into the work skills of our partners at S'OUVRE.
Bartosz Nyga: Every interesting story holds great power and a dose of inspiration to change one's life for the better. What's your story from scratch to becoming co-owner of a serious company?
Łukasz Smoliński: Sometimes I joke that I absorbed network marketing with my mother's milk. Due to the fact that in the 90's my mother cooperated with a foreign direct selling company. As a nine-year-old boy, I traveled with her on various types of prospecting trips in order to find new partners for cooperation. I watched how she worked and how she created an environment for the people she works with. You could say that these were my first experiences with the DS/MLM industry.
Then in 2012, when I took my first steps in classic business, I once again encountered the idea of network marketing. It was an American company and, interestingly, I was then in a team under a leader who is working with us today in S'OUVRE. Later, we ran a Beauty Institute based on natural cosmetic products. My father was in the US for his MBA studies at the time and when he came back, all the dots came together. The right time and competent people appeared to build a new MLM business. We have created S'OUVRE together with our business partners and we are very pleased with it.
Since childhood, I had the opportunity to observe my parents from the perspective of growing their own businesses. When I started my professional career, I was already working in my father's company in the electrical industry. It wasn't like I was made a director or manager right away; instead, I had to go from the ground up, like everyone else. I remember very well the moment when I went on my first assignment. We were supposed to connect broken electrical wiring, and on top of that it was by a lake in heavy weather and I was wearing only a flannel shirt. I told myself I had to start learning as soon as possible because I didn't want to dig ditches all my life. Step by step, I went through all career levels in the company, until I was managing the company's projects. And it was the same when we started with S'OUVRE. To me, it was crucial to get to know this business inside out. I had to learn everything – from the rules of registration, to sales and skilful team development, to achieving a high position in the marketing plan. After all, for the first 3 years I was dealing with expanding the network; only later I was asked by the managing director, Sebastian Antkowiak, and my dad, to support the company from the back office. Then I moved to Great Britain and started using the skills I had acquired in the British market.
Bartosz Nyga: During your speech at the company's executive convention, you said that S'OUVRE is a lifetime project that you approach with your heart and full commitment. What is your mission and vision of the company?
Łukasz Smoliński: My mission is that those who are unable to make their dreams come true can make them come true together with us. It is known that each person has different goals and conditions for what they would like to achieve with S'OUVRE. For some, these may be product perspectives, and for others, material perspectives. We reach out to those who want to stay healthy, make good money and, above all, be free. I know what it looks like in traditional business. If we start a traditional business, it is not as beautiful, nice, colorful as we would like it to be. People have the idea that if they start a business, everything will go well. For many years I watched my father sacrifice himself for my brother and me to make life easier for us. I remember well how often he had to get up at 2:00 am to go to work. He wouldn't come back until 6:00 in the morning for a break to eat breakfast and escort us to kindergarten or school. Classic business is very hard to run. Therefore, I hope that many people who do not know what they really want to do in life will notice the simplicity and wonderful attributes of network marketing. That they will see their chance in the MLM business.
Bartosz Nyga: And your vision?
Łukasz Smoliński: I want a billion people around the world to smile because S'OUVRE has helped them in any way in their lives. It doesn't matter if it is material, health or freedom issues. If people are satisfied with the effectiveness of the S'OUVRE business, then I will be happy.
Bartosz Nyga: You are a young man with lots of energy. Surely you've noticed that there are various stereotypes related to the MLM business. People associate this system with the image that only elderly people work in it. But more and more young people are joining network marketing. What advice would you give to young people operating in the MLM business?
Łukasz Smoliński: It is very important to test the product and believe in its effectiveness. I recommend choosing the best product for yourself. It's hard to recommend a movie in the cinema that you haven't watched. It is the same with MLM. Here you have to be 100% convinced, whether it is from a business or product perspective. You need to know how to build this sort of business and feel for yourself that the product really works. If you don't get to know the product, people will feel a lack of credibility.
You are right that more and more young people are joining network marketing. Most often they are young people, but more mature than their peers. I believe this is due to the fact that these people got to know the standard work model. They don't like the fact that they have a boss and work from 8am to 4pm. Young people are looking for opportunities. A recipe for life. The rule of thumb is that the sooner you get involved, the sooner you start getting to know this business, the sooner you will understand it. Therefore, it is worth joining network marketing not only because it offers huge earning opportunities, but also great opportunities for personal development. Even from this perspective, MLM business brings a lot of value to our lives.
Bartosz Nyga: We talked about stereotypes related to network marketing. There is one more. Many people still think that network marketing involves knocking on doors and selling pots. How to break this harmful stereotype so that people are more open to the latest business opportunities?
Łukasz Smoliński: I always say that if someone is closed in on themselves, they will also be closed in the developing world. Let's now relate it to the way of communication. What if we stopped at the stage of mailing through carrier pigeons? Imagine if you had to go to the bank to get things done, and that's alright, but the lady from the bank asks you to send one document and you send it via a carrier pigeon. Everyone's happy because you settled the matter in the bank, the lady is glad that you have all the documents, but the letter never arrives. That pigeon will probably never get to the lady. The point is that if we hadn't started to develop in communication, we wouldn't have accomplished many important things, because our actions would not be compatible with the changing world. It's important to show someone who has some misconceptions about network marketing that this business doesn't look like it used to. Everyone has many opportunities to develop their business. Every person is different. Some will want to grow their business online and some will prefer offline. Some people will want to base their work in MLM on face to face meetings, and others would meet in larger groups. Some people will arrange product testing meetings, while others will arrange a business meeting at a coffee shop. The most important thing is to show what the possibilities of growing this business are and find the right way for a specific person.
Bartosz Nyga: During the coronavirus pandemic, many traditional companies began to go bankrupt en masse. On the other hand, there are two industries that have benefited a lot from the lockdown: e-commerce and MLM. S'OUVRE is the perfect example of combining these two areas. You not only develop structures and relationships with business partners, but also introduce a network of online stores to the market. Was this connection ill-considered and accidental, or was it a reaction to the conditions of a changing world?
Łukasz Smoliński: Of course, you have to observe what changes are taking place on the market and what trends prevail. The idea of combining e-commerce and MLM did not arise overnight. That was simply a period of preparation and observation, and when all the dots came together creating the possibility of launching a company, we knew what it should look like exactly. At the same time, we are constantly learning and looking for new development opportunities. The fact that something is created once does not mean it will function for ages. The world is changing and you need to watch the market and its needs. The more markets you observe, the more likely you are to find new opportunities to adapt to a changing world. It is constant development and constant implementation of new things.
Bartosz Nyga: In your speech yesterday, you also mentioned the idea of a Network Chameleon. S'OUVRE is a perfect example of this phenomenon. Could you explain what a Network Chameleon is?
Łukasz Smoliński: To me, the most important thing is to use 100% of your skills in those aspects you are best in. If someone is good only from the product perspective, I always tell them to act in a product-based manner. What is Network Chameleon to me? We are on the eve of the opening of the European market. Having traveled a lot around the world, I noticed that there is a certain core, a foundation of a business that is and always will be the same everywhere. How are we going to lead people? What skills do we need to acquire? These are the basics. Only that they will be presented differently on each market. Let us take, for example, the Polish market. It has been a leader market for many years, where almost all of the emphasis was on business opportunities. Great Britain is a consumer market. The point is to build trust in the product in the first place, so that you can talk about the MLM business from the business side. In Poland, on the other hand, the possibility of growing a business and buying a product could be presented at the same time. A person should first test the products on themselves, and then show the possibilities of developing a business.
The Network Chameleon is a person who will be able to efficiently see specific opportunities caused by the changing market trends. Not only that, they will introduce these changes not only in their life, but also in their entire team.
Bartosz Nyga: How will the metamorphosis and development of S'OUVRE look in the future?
Łukasz Smoliński: Our goal by 2030 is to have presence on all markets, on all continents of the world. As for the rest, just watch. It's what I always say – step by step. Step by step, we are doing our part, getting ready to open up to other countries.
Bartosz Nyga: Who do you owe to where are you now?
Łukasz Smoliński: My parents. From an early age, I had the opportunity to observe how they develop their businesses and how they grow as people. My parents are the greatest mentors for me from a life and business perspective. It is from them that I get all my knowledge and inspiration.
Bartosz Nyga: Anything else you'd like to say to the Network Magazine readers?
Łukasz Smoliński: Yes. Dear Reader. If you've never dealt with network marketing, I wholeheartedly recommend that you try this business. See and feel how this industry works. So that you can see if this business is right for you. See for yourself and discover the world of new opportunities for business and personal growth!
Bartosz Nyga: Thank you for the interview.
The author of the text is a secondary school student in Sosnowiec. Councilor of the Youth City Council of Sosnowiec, volunteer of the Help Furaha foundation, member of the board and co-organizer of events in the Ad Vocem charity organization. For several years, he has been focusing on broadly understood self-development. His way of life is to help other people.